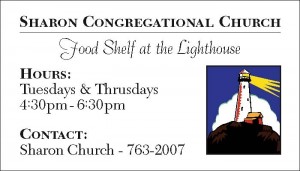 The Sharon Food Shelf is now entering its 27th year of operation. We are pleased to have received financial support form hundreds of community people and national organizations throughout these years.
Food comes to us through food drives carried out by many organizations. In this item we wish to honor one of these organizations.
This winter the Lions Club International sponsored their annual drive called "Food from the Heart." The Strafford and Norwich Vermont Lions Club designated us as one of the recipients of the drive. From this our volunteers sorted 650 pounds of food, and additionally received $172.00 form the Norwich Lions Club! These organizations have truly big hearts!
We continue to see many people in need each month. Many of those served are single and elderly people. In Jan and Feb we served 96 families accounting for 200 people. We distribute canned goods, produce, frozen and canned meats, bread, dairy and eggs. Paper goods, and also cat and dog food for our client's animals are not covered in the Vermont "Three Squares" program. Therefore, we try to keep these in stock on a regular basis.
With the approval of the Board of Directors of the Food Shelf we have carried out the following projects with the specially allotted 2010-11 renovation funds that have been donated:
1.We met with Dayco, Inc, a local insulation company, and they recommended that we have blown in insulation in the attic and roof slopes of the Lighthouse (the building of which the Food Shelf is a part). The hot air pipes in the basement will be covered with insulation fabric by volunteers this month. With this added insulation our pipes no longer freeze. Dayco believed that the Sharon Food Shelf to is a great support to our community. Because of this fact they donated an estimated $500.00 worth of material for this project.
2.New metal shelves have been added to the pantry and storage areas have been renovated.
Our Mission statement states that we will provide to ALL who come to us in need of food from Sharon and surrounding towns. Your support allows us to continue to do this. God Bless You.
See a slide show below: